ATTENTION ALL HANDS
MEETING
Meeting is on the 1st Thursday of every Month
at 2000hrs
Marine Corps League Brooklyn No.1 Detachment 217 National Site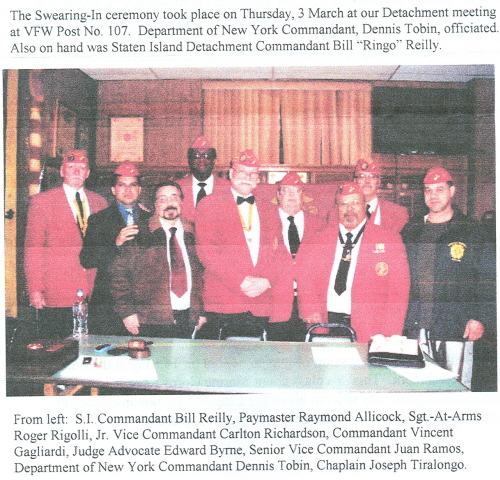 2011 Elected Brooklyn #1 Dtachment Staff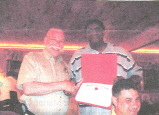 2011 Detachment Awards Dinner




A Detachment Awards Dinner was held on Saturday, 7 May 2011 at Nora's Park Cafe, 3019 Quintin Road, Brooklyn, NY. This dinner honored those who have given thier time and efforts in support of our Detachment. Awarded were Jr. Vice CARLTON RICHARDSON, for his work at the Veterans Administration Hospital, Sr. Vice JUAN RAMOS, for his leading work in the Detachment's Toys For Tots Program, Judge Advocate Edward Byrne, for his work in putting together the memorial program at last years Birthday Ball honoring Col. Donald G. Cook, the first Marine POW during the Viet Nam War and Jr. Past Commandant John Piccirillo for the many years of work, loyality and dedication to the Detachment.
Detachment BAR-B-QUE


Jr. Past Commandant, John Piccirillo will be hosting a Detachment BAR_B_QUE at his home on 25 June 2011, beginning at 1500 hours. There will be the usual BBQ food fair, beer, soda and wine. "Bring your own liquer"

The cost is $20.00 per person. Children under 12 are free.
Bring your bathing suits! John has a nice non Olympic size swimming pool.
Come and lets all enjoy a GREAT DAY!
Mrs. O'Shaunnessey and Timmy, VERY close friends of John may be in attendance.

New Detachment Shirt


New Detachment Shirts orders are now being accepted. They are similar to golf shirts and are of great quality. In the above photo where the EGA is, the MCL Emblem will appear with the words "Brooklyn No.1 Detachment" embroidered across the bottom in a straight line. Your name will appear on the right side of the shirt. The shirts are black and will cost $35.00. They may be picked up at the October Detachment meeting or shipped to you. Shipping charges will apply. If you are interested, please call the Detachment with your size information or any questions.





Newsletter Going Electronic


The Newsletter will be sent via E-Mail starting with the March 2012 issue. The Newsletter will also go out by mail to those that we do not have a current E-Mail address for:

if you already get E-Mails from us we have it. If you do not have access to a computer and or do not have an E-Mail address, call me at 718 812-9459. The E-Mail Newsletters will be printed and a copy will be sent to you. If you know of someone that should be receiving a copy or would like to receive a copy send us a notification.

Newsletter Editor

MCL Uniform Change

The National MCL Commandant issued an order stating that the Khaki Shirt can no longer be worn as part of the MCL Uniform. The wearing of the Khaki Shirt is also no longer approved dress for Color Guards and Ceremonies. The ONLY APPROVED uniform shirt is the WHITE SHIRT. Members at the National Convention voted and chaqnged to bann the Khaki Shirts. This ruling is in effect until it comes up at the next National Convention. any violation of this new By-Law may result in suspension of a Detachment's Charter. Please click on the link below for MCL regulations:




Washington D.C. Trip

The weekend of 19-21 August 2011 a trip to Washington D.C. is planned. This trip will include a visit to 8th & I Barracks for the Evening Parade, as well as a trip to the Marine Corps Museum in Quantico, VA. Also a visit to the Mickey Finn Detachment at Quantico, just outside the Base, a vist to the Iwo Jima Memorial and Viet Nam Wall. The cost is $300.00 per person including transportation and hotel. The hotel is the Marriott Towne Place Suites in Falls Church, VA. The rooms are comparable to a studio apt.


2011 Birthday Ball

Our annual Birthday Ball will once again will be held at Buckley's Restaurant and Catering Hall, located in Brooklyn on the cornor of Avenue S and Nostrand Avenue.The date this year is Friday 11 November 2011. Journal ads are now being accepted. Help support our ball by placing an ad.


Birthday Ball Journals Available

Journals for this years 2011 Birthday Ball will be available for purchase at $12.00 per copy, after the Ball, while supplies last. If you attended the Ball and/or placed van ad, you automatically either received or will receive a copy. Please make a check payable to:
Marine Corps League No. 1 Detachment
Mail to:
Brooklyn No. 1 Detachment
Park Slope Armory
1802 8th Avenue
Brooklyn, NY 11215.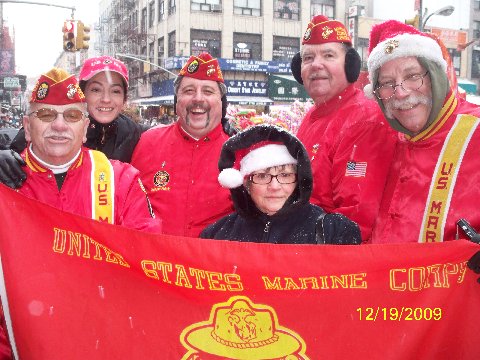 Little Italy Christmas Parade 12/19 2009

Police Officer Susan Porcello (2009 Birthday Ball Guest of Honor) 2nd from left, Detachment 240 Marines Al Cavallo, Jim Seaman and Bill Novak take a moment for a quick picture with our Commandant Vincent Gagliardi and his girlfriend Diane.
Shoe Box Program
This program, originally an idea of member Ed Plunkett, is designed to gather, via donations, personal items, packed in a shoe box carton and sent over seas to all troops, not just Marines.
We are continuing our work on this program. We are in the process of contacting main offices of large Drug Store chains, local Community Boards, political representatives and other veteran organizations, just to name a few. It is a work in progress and Detachment member help is needed. Members are encouraged to get involved and help make this a success.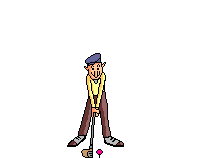 Staff Sergeant Ed Spinella Memorial
Commandant's GOLF Tournament
Wednesday, 08 June 2011
This years Golf Outing will be held on Wednesday, 6 June 2012 at the Dyker Beach Golf Course located at 86thStreet and 7thAvenue, Brooklyn, NY. The cost per golfer is $150.00, $525.00 per foursome. Hole sponsorships are available at $150.00 per hole. Green fees and cart, Continental Breakfast, Hot Dog and Beer or Soda at the TURN are included, as are trophies and Awards Dinner immediately following.


ROSE PROGRAM

Our Rose Program needs volunteers to help get this going. If you can spare a few hours a day once a week, please call 718-812-9459. Assistance is definitely needed. This is equivalent to the Poppy Program of the American Legion and the VFW. It is a great fund raiser.




VAVS

Our representatives at the Veterans Hospital are Joseph Tiralongo and Roger Rigolli. Anyone needing assistance with the VA, contact the Detachment.






Joseph S. Tiralongo Pound Keeper
Gil Hodges Pound 140 New York Pack

DEVIL DOGS
WOOF WOOF, Devil DOG MEMBERS!
Gil Hodges Pound 140 will be holding its next GROWL soon
Meeting time to be announced. All members of the Military Order Of the Devil Dogs are to attend the Dog House. Make sure you bring sufficient Bones for ant indiscretions the Honorable and surely Sir Pound Keeper deems appropriate